Black and White:
Still The Best Photographic Art Form Ever!



This is my Web Page designed solely to discuss and honor Black and White photography as an art form. As a child, I remember how much I wish Mom and Dad would buy color film to capture those special moments -- vacations, trips, birthdays and holidays. But, alas, color film was expensive and processing equally so. Eventually, prices fell to the point of consumer affordability and Mom would buy 126 color film for her Kodak Instamatic camera. The pictures always came back full of grain, unnatural color, and never quite sharp enough (due to the fixed focus lens on the camera). But, they were in color!

As adulthood crept up on me, I began to see photography as an art form and started to appreciate the subtle beauty of black and white photos. There's something about the way a picture can be composed without the distraction of color so one may appreciate the lighting, contrast, and shapes of the subject(s) being photographed.

I am especially fond of photographing winter scenes with lots of snow. In the northeastern United States during the dead of winter, there isn't much in the way of color to be shot, but if one is careful to open their eyes and look around, there is much beauty to be captured on film. For example, the simple village scene below shot where I work (Mystic Seaport Museum in Mystic, Connecticut) exhibits much beauty in its restful composure:


Here's another photo I am fond of -- a boat in the ice awaiting the spring thaw on the river: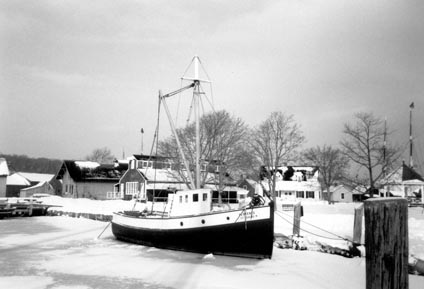 One of the things which is causing a renewed interest in black and white photography is the increasing availability of C41 process black and white films, such as Ilford's XP2 and Kodak's Black and White Plus. C41 process, for those who don't know, is the standard processing procedure used for color print films which is employed by every photo lab in existence from the big nationals to the one hour mini-labs at your pharmacy. This advent of processing black and white film in this fashion means decreased processing/printing costs (b/w film costs more per roll and processing/printing also does) and also shortens the time you wait for your finished prints to the same amount as color. Please see my page on C41 process b/w film and examples of work done with it for further information.

Please check back soon -- this Page is new and development will be continuing to grow. If you have some black and white photography that you would like to share, please send it to me via e-mail attachment or link and I may include it in this page or in pages to follow. I intend to include links to film reviews, processing recommendations, and any tips and tricks I discover as I learn how to become a good black and white photographer. My E-Mail address is mysticdave@lycos.com -- I'd love to hear from you!

Wish to search for other photographic resources on the Internet? Try Google below:

Return to my Home Page by clicking here.